Use this larger map size to find locations.
Entering Tour from the North
From I29 exit at Mondamin (Exit#89) to Sawmill Hollow.
Take 127 East to Magnolia. At edge of town turn right. At L23/Lorado/Locust continue to Kennedy Ave. turn right. Follow signs to Sawmill Hollow.
or to Lavender Farm
At 127 and L20/Loess Hills trail split stay right. continue on 1.5 miles to Lavender Farm on Left.
Lavender Farm – Sawmill Hollow Connection via L20-L27-L23 Loop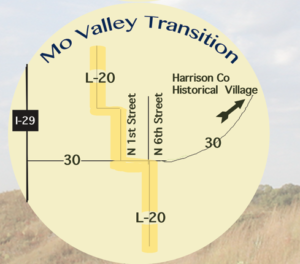 Entering Tour from the South
From Council Bluffs take Broadway north (by Pizza King) which turns into L-20/Old Lincoln Highway. Go approx. 7 miles north into Crescent.
From Omaha Take I-29 or I-680 north to where they converge. Exit to Crescent east on Old Mormon Bridge Road. It ends at a T, which is L-20/Old Lincoln Highway. turn Left, proceed into Crescent. Stop 5 is just north of Crescent on L-20. Stops 7,8 are east of Crescent on Badger. For 6 take Mahogany east to right turn onto 195, then right at driveway.